Daria's Inferno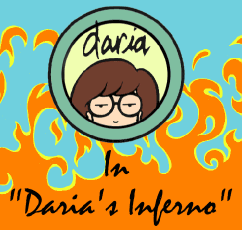 Here are some interesting screen captures and other goodies from "Daria's Inferno." If you haven't played the game yet, just be warned that some of the content in this section may give away key elements of the game. Not major ones, though. Still, if you don't want to ruin the surprise, then you may want to wait to look at this page until after you play the game! The choice is yours. If you decide you want to look around anyway, by all means, go for it and enjoy!!
---
Screen Captures
Sick Sad World • Alter Egos • Jane • Other
This game definitely had some memorable moments. Here are a few collections of some of the more "interesting" ones.
Infernal Quotes
Here are some of the best lines from the game. And believe me, there were a lot of good ones to choose from!
Theme Song Lyrics
There's more to the theme song than MTV plays at the end of the episodes. Check out the rest of the song, "You're Standing on My Neck," right here.