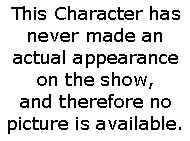 No specific names given. Popular boy-band musical group. Also referred to as "Boys to Guys" (which may have been a completely different reference to a different band, but who the hell cares, they're all the same anyway).
Quinn is a fan of "Boys are Guys", which is obviously a take on any of a half-dozen boy bands along the lines of N'SYNC or the Backstreet Boys. Like their real-life counterparts, "Boys are Guys" sell out their concerts and are adored by their female fans and despised by teenage boys. This being the case, Joey, Jeffy and Jamie still buy numerous tickets in the hopes that Quinn will attend a concert with one of them. Their plans are shattered when it turns out she can't go, and they are stuck with expensive tickets they don't want.
"Boys are Guys" were scheduled to make an appearance at a local college that Lindy attended. Quinn was excited about the concert, but pretended not to be when she saw that all the college kids thought the band was stupid.
Other popular boy bands include the "Backyard Boys", "Boys from the Street", "Boys in Suits", "Guys to Guys" and "Gang of Boys".
Note: "Boys are Guys" have never made an appearance on the show, and have never been heard either, so their quote is pure conjecture. I think I'm safe assuming they've said "Ooooooo…" at least once.